*howler Mrs. Weasley voice*
SPOILERS FOR CURSED CHILD. MASSIVE RUIN-THE-STORY-FOR-YOUR-INNER-11-YEAR-OLD-WHO-WAITED-AT-BORDERS-AT-MIDNIGHT-FOR-THE-NEXT-HARRY-POTTER-BOOK SPOILERS. 
*kindly Mrs. Weasley voice*
But please, do read on for my snarky reactions after you've finished. This post only covers Part 1 Act 1, so you're safe as long as you've read that far.
It's 11:50. It's going to come out at 12:01. Oh my Rowling, I hope this is good.
My friends. My friends are coming back!
Is it 12:01 yet!?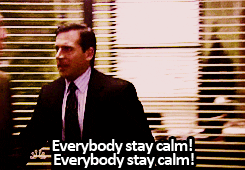 It's 12:01. Holy crap. It's here. Another canon story with Harry James Potter, Ronald Bilius Weasley, and Hermione Jean Granger.
Okay we're starting at the famous or infamous epilogue (depending on who you ask) scene.
I have gotten in more arguments over Albus Severus's name than almost any other topic.
(#TeamAlbusSeverus)
I lost a lot of readers after that statement. Thanks for sticking with me, everyone else!
The dialogue is just slightly different from the same scene in the book and it's throwing me off.
Not that I have the last third of the seventh book basically memorized or anything.
MY FRIENDS ARE BACK GUYS.
Aw, Rose Granger-Weasley is a snarky little shit. Fam.
Harry to Albus: "Hogwarts will be the making of you, Albus. I promise you, there is nothing to be frightened of there." Except, you know, an entire forest full of deadly creatures they might send you into to punish you for breaking curfew. Also there's a giant squid. And sometimes they host the Hunger Games. Actually I almost died there roughly seven times. But nothing to fear!
There may be a fair bit of Stockholm Syndrome at play here.
Ginny to Trio: "People always look when you three are together." I think that's the opposite of squad goals. But did I mention? MY FRIENDS ARE BAAAAACK.
I should really go outside.
Oh, right, it's midnight.
Okay, I guess Scorpius is gonna be a character. Guess I gotta get used to that ridiculous name, then. I mean, I know his Dad's name is Draco, but c'mon. That's just asking your kid to suck.
So Scorpius is adorkable. I did not expect that.
Albus and Scorpius meeting reads like an actual meet cute. Is this gonna be canon?
"The sorting hat walks through the students."
What!? How? How is this staged, I need to know. Is it just an actor with a hat? A puppet? Wires? Some combination thereof?
(By the way I studied drama lit in school, so Harry-Potter-as-a-play format isn't weird to me, it's basically my dream come true)
"ROSE: Thank Dumbledore."
The Wizarding World now actually uses Dumbledore as the deity they thank. I approve of this message.
Albus is in Slytherin. I love this. I love it. I love it. Please shove that scene in the face of the person who decided to add the "lock the Slytherins in the dungeon" scene to Deathly Hallows Part 2 movie.
So James is a douche. But I mean, again, when Harry named his kid James, I guess he was kinda asking for that.
Draco has a ponytail. I am mentally replacing that with "man bun" for my own enjoyment.
I am 100% not buying that Scorpius has a crush on Rose. But the thought of Draco and Ron as in-laws makes me giggle delightedly. Talk about your awkward British Thanksgivings. They have those, right?
"SORTING HAT: …Don't worry, child, I know my job, you'll learn to laugh, if first you sob, Lily Potter. GRYFFINDOR."
Did Albus piss off the Sorting Hat somehow? This seems a little pointed.
FUCK YES HERMIONE IS MINISTER OF MAGIC I AM ACTUALLY FIST PUMPING
Ironically I was thinking how Hillary Clinton's DNC speech reminded me of Hermione. Hermione would definitely say "I sweat the details of policy."
….aaaaaand I lost more readers. Gonna just be me finding gif reacts in a cupboard.
HARRY AND HERMIONE ARE GROWN ADULTS WHO BASICALLY RUN THE WIZARDING WORLD AND SHE IS STILL BADGERING HIM TO DO HIS HOMEWORK I LOVE IT
Side story: The telephone box that dials 62442 (MAGIC) to enter and leave the Ministry of Magic that they use in the play. They made this an actual thing in Universal Orlando's Wizarding World of Harry Potter. And I made my younger cousins go into it and dial the number for the special "Ministry of Magic" message. EXCEPT THEY DIDN'T KNOW HOW TO WORK A ROTARY PHONE.
Now that I've made you and myself (mostly myself) feel old…I realize that it is 2:00 AM and I should sleep.
I'm not gonna.
Old man Amos is a serious dick. What happened to the guy who thanked the 14 year old for bringing his son's body back after said 14 year old watched his friend die, was tortured by the man who killed his parents, and narrowly escaped death himself!? What, now that he's an adult, it's okay to blame him retroactively?
Ron. Why are you sending a teenager a love potion!? Didn't we have a whole thing where we learned how dangerous love potions are? Did you enjoy your time under a love potion!?
How are those things even legal!? That would be like if you could just casually buy rohypnol at Spencer's. This is the "oh it's so cute you drugged me" Disney's Descendants insanity all over again. 
"HARRY: I think it's a joke about — I don't know what. Lily got farting gnomes, James got a comb that's made his hair turn a shade of pink. Ron — well, Ron's Ron, you know?"
I think Jack Thorne has Ronald Weasley confused with Rupert Grint.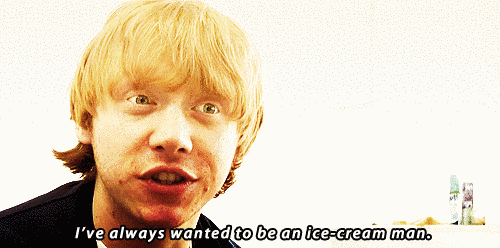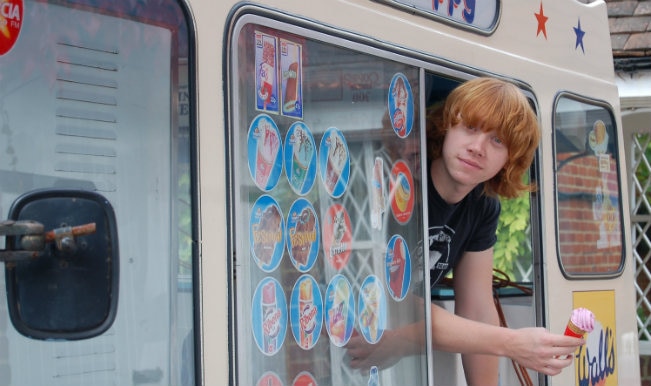 Or Ron tries and fails to be a prankster to try and fill the hole that Fred left but knows he never truly can…
Well that hurt.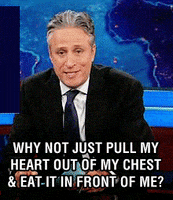 Ok here's something to cheer us all up:
Albus snidely rejecting the gift of the one thing his father has from his dead mother he never knew makes him officially Worst Son Ever.
"HARRY (seeing red): Well, there are times I wish you weren't my son."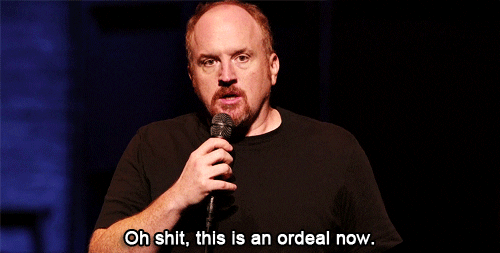 Controversial Statement: I think that was totally in line for Harry's character. He's always had a bad temper, a tendency to lash out at the people he loves most, and express his frustrations with words that don't mean the thing he's actually feeling (particularly when he's given a lead-in like "I just wish you weren't my dad"). Also Albus was being, like seriously, THE WORST SHIT EVER. You don't insult the only surviving memory of the orphan's dead mom! You just don't!
But also yeah, Harry is kinda Worst Dad now. But he knows it. Which is sorta heartbreaking.
Voldemort whispering and creeping in the background of Harry's dreams is also heartbreaking. And intensely creepy.
I think this play is fixing most of the issues a lot of people had with the epilogue. All wasn't really well. Too much shit went down. All of these people carry the scars of Voldemort.
Oh my god yas we're addressing how messed up Dumbledore was.
To be clear, I'm not a Dumbledore hater AT ALL. I think he's the crux of Rowling's gradually-revealed-series-long theme that people are much more complicated than being simply good or bad (which the movies kinda ruined with Sirius's far-too-on-the-nose speech in Movie 5, but I like to ignore that movie entirely). All characters are eventually revealed to be shades of gray (no not that kind…
…) and Dumbledore, who was basically the messiah for six books, turns out to be one of the most complicated and morally ambiguous of them all. I LOVE IT.
But seriously, Dumbledore probably messed up Harry almost as badly as Voldemort. I mean, he did it to save the world, so he kinda gets a pass? But I'm just so happy this play is addressing it!
Ginny says she's not mad at Harry because she knows he didn't mean it, he'll apologize, and what he said "concealed…other things." That could be referring to what I said earlier about how Harry has a tendency to shout about something that wasn't actually the thing that was bothering him…but I think it's also Ginny being like "well, he was being a serious shit…"
Seriously, now that I think about it, Harry asking his son, "You wish me dead?" is just as dark as the rest of it. This poor guy needs a break.
Albus hugs his friend. With fierceness. They hold for a beat. Scorpius is surprised by this.

SCORPIUS: Okay. Hello. Um. Have we hugged before? Do we hug?

The two boys awkwardly dislocate.
Inability to hug without awkwardness is not helping your paternity doubts, Scorpy.
"SCORPIUS: Ooooh, a quiz! Three schools pick three champions to compete in three tasks for one Cup. What's that got to do with anything?

ALBUS: You really are an enormous geek, you know that?

SCORPIUS: Ya-huh."
I am Scorpius. We are Scorpius. Scorpius is us.
How the hell do they do this train scene on stage!? Is there actual sorcery involved!? I MUST KNOW HOW DO I APPARATE TO LONDON.
HOLY CRAP TROLLEY LADY
TROLLEY LADY IS BAMF
TROLLEY LADY IS BAMF EDWARD SCISSORHANDS PUMPKIN PASTY GRENADES THROWING JULIA CHILDS LADY YODA GOLLUM THING
GUYS
I HAVE A NEW FAVORITE CHARACTER
I DON'T MEAN NEW FAVORITE HARRY POTTER CHARACTER
I MEAN NEW FAVORITE CHARACTER EVER
IT IS 3AM AND I FEEL ALIVE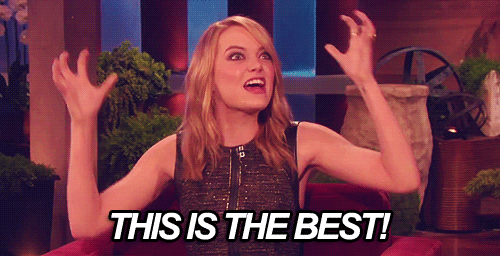 PROFESSOR MCGONAGALL IS HERE.
Hey, where are Teddy and Victoire? Seems like they should have shown up at some point. Or George and Angelina's kids? Although, I guess the fewer child actors the better. And if I heard the name "Fred Weasley" in this play I'd probably start bawling.
"HARRY: Now this is difficult but we have to ask it to rule out. Those of you with a Dark Mark…have you felt anything? Even a twinge?

DRACO: Back to being prejudiced against those with a Dark Mark, are we, Potter?"
I don't know if you can call that a "prejudice," more a "logical reaction." That would be like saying "Back to being prejudiced against Nazis, are we?" It's a pretty justified prejudice, is all I'm saying.
No but seriously, how many people with Dark Marks are allowed to be, I don't know, not in Azkaban!? What, after Voldemort died, did they just all go, "Okay, game over, you guys won, drinks on us!"
Ginny edits the "sports pages" of the Daily Prophet. But wizards only have one sport, so isn't it more like "sport pages?"
"This is chaos. This is magic. This is St Oswald's Home for Old Witches and Wizards and it is as wonderful as you might hope.

Walker frames are conjured into life, knitting wool is enchanted into chaos, and male nurses are made to dance tango."
I have been waving my wand for the last ten minutes and yet there are still no tickets to this play in front of me. I hate being a muggle.
Wait. We're doing a time turner plot!? Did JK Rowling and co. just rip off Starkid's A Very Potter Sequel???
Maybe the entire purpose of this play is to pour some asphalt into the "why didn't they just use a time turner to kill baby Hitler" plot hole.
"SCORPIUS: Thank you. Good to know. Second point: Do either of you know what Polyjuice tastes of? Because I've heard it tastes of fish and if it does I will just vomit it right back up. Fish doesn't agree with me. Never has. Never will."
This is a sentence I never thought I'd say: I love Scorpius.
This whole Polyjuice Potion scene must be hilarious live.
I really want George Weasley to show up. I just need to know that he's okay.
SCORPIUS/HARRY: Albus. Block her. It has to be you.

ALBUS/RON: Me. Why?

DELPHI/HERMIONE: Well, it can't be either of us, can it? We are them.
This is a wonderfully meta joke that tickles my stomach.
Albus kissing Hermione is hilarious until you remember she's his actual aunt.
Okay, if Ron was acting that suspicious, no way Hermione just lets it go and walks away. She'd literally blast him out of the way to find out what in Dumbledore's name he'd done now.
Scorpius to Albus: "there's a reason we found each other." Yeah, I don't think Rose is the one Scorpius has a crush on…
"ALBUS/RON: How to distract Scorpius from difficult emotional issues. Take him to a library."
Once again, Scorpius is the collective spirit animal of the Harry Potter fandom.
Hermione. Remember when you were the brightest witch of your age? Could we make the riddles that protect the all-powerful-highly-dangerous-could-fuck-the-universe-sideways object a little less ridiculously easy? If it doesn't keep out two terrible teenage students then who does it keep out!?
A continuously exploding and expanding library shelf live on stage eight times a week. This has to be some madly impressive stage sorcery. I can't even imagine what tech week was like on this show.
"Albus: Our journey has only just begun." Some of this dialogue is just painfully awkward. I guess the actors must make it work, but…yikes.
Act One ends on whispers that rise to a roar and then a cut to black. I'm obsessed with the whispering. It's creepy and thematically resonant. This play is all about the whispers of the past roaring in our ears and driving us to present mistakes.
And as the play cuts to black it is ironically now quite bright in my own room…maybe I should take a break…
Click here for Part 1 Act 2! And commenters, please keep spoilers for the remaining three acts out of the comments sections out of respect for anyone reading who hasn't finished. #KeepTheSecrets