All the cool kids come late to the game.
I totally missed the deadline on this one, but it's villains. How could I resist!?
Kill — Cruella DeVille
I have a psychologically questionable love of villains. I've made this quite clear. I can excuse many an evil spell if they have a particularly mellifluous diabolical laugh.
But dis psycho bitch? She wants to skin puppies. For fashion!
Skin. Puppies. Just think about that. Really think about it for a second. I mean…puppies!!
Look. You can poison teenagers with apples, you can plot to overthrow a kingdom, you can even destroy an entire city over your unholy boner. But you do not touch the fluffy. And you do not make a coat out of the fluffy! Inexcusable! Demented! Perverse!
So I would like to skin Cruella and wear her as a coat instead. See how she likes it!
Marry — Hans
Okay, calm down. Just hear me out.
My actual favorite villain is Scar. But, y'know, he's a lion. And although we have established that I have a questionable psychology and an undying love of all things fluffy…bestiality is still not a line I'm willing to cross. And if we're talking marriage…well, I'd like to be Queen of a fairy tale land someday, and Hans seems like the skilled sociopath to eventually get that done. Y'know, when magical ice powers aren't involved. Plus, he's kinda hot. Which is kinda rare in the villain category. So why not, I'm all for a shallow political alliance.
Refurb — Maleficent
No, not that piece of animated perfection. Nice, shade, though.
I mean this atrocity.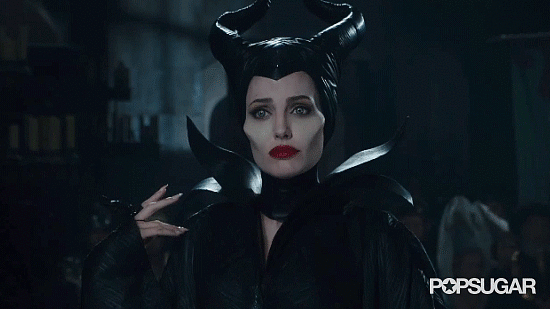 For anyone who hasn't seen the movie and wants to…first of all I apologize on Disney's behalf, but the next few sentences contain spoilers so you might wanna click away.
YOU DO NOT TAKE DISNEY'S MOST BADASS VILLAIN OF ALL TIME AND TURN HER INTO JUST ANOTHER GIRL WHO HAD A LOUSY BOYFRIEND. YOU DO NOT TAKE AWAY HER DRAGONHOOD. AND YOU DO NOT MAKE HER LOVE AURORA.
I've talked before on my utter disdain for this movie and other similar Disney live action catastrophes, but this particular characterization just destroys the wonderful innocence that is childhood nightmare fuel. So can we pull a Journey into Imagination with Figment and refurb the refurb? Angelina Jolie looked so cool as live action Maleficent, and the re-enactment of the christening scene was perfection. Can we make a live action film centered around Maleficent that protects her villainous integrity? Please and thank you.
Check out other blogs' Kill Marry Refurbs here! And, as always, thanks to Mouse on the Mind and This Happy Place Blog for hosting!